Bra sida med många tips!!!
Dressingar
Refreshing sweet and sour dressing (enough for 2 jars):
½ lemon
1 tbsp honey
5 tbsps olive oil
Pinch of cumin
Pinch of salt
Couple of chili flakes (or dried cayenne pepper will do the trick nicely)
Honey Mustard Dressing (enough for 2 jars):
4 tbsp olive oil
3 tbsp vinegar
2 tbsp mustard
2 tsp maple syrup (or honey for non-vegans)
Salt and pepper to taste
Asian Style Peanut Butter Dressing (enough for 2 jars):
1 tbsp peanut butter
1 tbsp soy sauce
1 tbsp honey or maple syrup to make it vegan
1 tbsp vinegar or lemon
2-3 tbsp water
A pinch or two of chopped or grated ginger (dried is fine)
---
Zucchini pasta salad with avocado spinach dressing

 2 st
1 1/2 cups spiraled zucchini
2 tablespoons kalamata olives
1/2 cup cherry tomatoes
1/4 cup feta cheese
1/2 cup shelled edamame
1/2 cup chopped red bell pepper
1/2 cup sliced celery
Avocado Spinach Dressing – mixa ihop
1/2 cup fresh packed spinach
1/2 ripe avocado
juice of 1 lemon
2 tablespoons extra virgin olive oil
2 tablespoons Greek yogurt, plain, 2%
1/2 teaspoon salt
1/4 teaspoon pepper
---
Mango Black Bean Mason Jar Salads with Quinoa and Honey Lime Vinaigrette

-4 st
Romansallad
1/2 cup finely chopped cilantro
1 jalapeno, seeded and finely chopped (dvs grön chili)
1/2 of a medium red onion, finely chopped
2 avocados, diced (pressa en halv lime över, plus lite salt)
1 can yellow corn, drained
2 cans black beans, drained
2 cups frozen diced mango, thawed (pressa 1/2 lime över)
1 cup cooked quinoa
For the dressing:
juice of 2 limes
2 tablespoons honey
1 teaspoon white sugar
1 tablespoon Dijon mustard
1 teaspoon garlic powder
1/2 teaspoon cumin
salt + pepper to taste
1/2 cup extra virgin olive oil
---
LUNCHLÅDESALLAD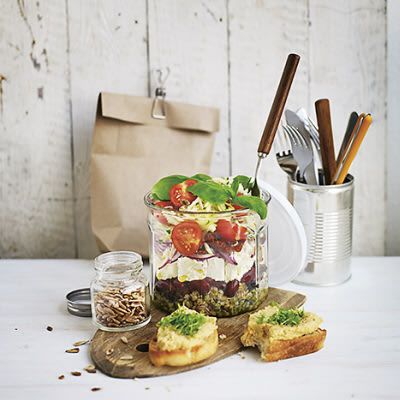 1 portion
2 dl kokt, kallt matvete
2 msk pesto
1 dl kidneybönor
75 g tärnad fetaost
0.5 dl hackade oliver
0.5 dl soltorkade tomater
0.5 strimald liten rödlök
6 delade cocktailtomater
1.5 dl riven zucchini
8 basilikablad
---
TILL SERVERING:
rostade solroskärnor
bröd
hummus
krasse
---
– Blanda matvete med pesto och lägg i botten på en burk. Smaka ev av med salt
– Lägg bönor, fetaost, oliver, soltorkade tomater och rödlök i lager ovanpå matvetet.
– Fortsätt med med tomater, zucchini och basilikablad.
Till serveringVid servering, strö över solroskärnor och ät med bröd och hummus toppad med krasse.
Pasta och mozzarellasallad – 4 st

5 ounces Earthbound Farm Organic Baby Spinach
8 ounces fresh ciliegine mozzarella balls (cherry-size, about 1/3 oz ea)
1 cup halved snap peas
1 cup orzo
1 pint cherry tomatoes, cut in half
Dressing
3 tablespoons olive oil
2 teaspoons grated lemon zest
1 tablespoon fresh lemon juice
1/2 cup chopped fresh herbs (such as dill, tarragon, and chives)
1/2 teaspoon kosher salt
1/2 teaspoon freshly ground black pepper
---
Greek salad in a jar – 1 st
sallad av något slag
2 tbsp chopped fresh parsley
60g crumbled feta cheese
2 tbsp pitted black olives, halved
2 tbsp diced red onion
⅓ cup quartered cucumber slices
⅓ cup halved cherry tomatoes
---
For the lemon vinaigrette:
2 tbsp lemon juice (alt vinäger)
pinch of salt
freshly ground black pepper, to taste
3 tbsp olive oil
---
Pastasallad med saffran – 4 st

Rökt lax
100 g sockerärter
150 g broccolibuketter
150 g pastasnäckor
1 knippe rädisor
---
Dressing
2 dl matyoghurt
1 msk flytande honung
¼ pkt saffran à 0,5 g
rivet skal av ¼ citron
1 tsk hackad röd spansk peppar
½ tsk smulad torkad rosmarin
½ tsk salt
 Pastasallad med kikärtor

 -4 st
---
ägg
blandad grönsallad
1 stor gul paprika
2 avokado
2 stora tomater
Pasta för 4 personer
1 förpackning kikärtor ( kokta )
Dressingen
1 dl creme fraiche alt. gräddfil
1 msk chilisås
1 pressad vitlöksklyfta
salt & peppar
Pastasallad med fetaost – 4st

rucolasallad
200 gram fetaost tärnad
20 stycken svarta oliver
14 stycken körsbärstomater
halverade eller 2 tomater, skivade
1 styck röd lök fint strimlad
1 styck paprika finstrimlad
300 gram pasta valfri
Dressing:
8 matskedar olja
2 matskedar vinäger
2 teskedar italiensk salladskrydda
salt
svartpeppar
Mason Jar Chickpea, Farro and Greens Salad

 – 4st

Greens and garnishes
1/4 cup pumpkin or sunset seeds
Mixed greens, roughly chopped
Kalamata olives
Feta cheese
---
Farro
1 1/4 cup farro
1 tablespoon olive oil
1 medium clove garlic, pressed or minced
1/4 teaspoon salt
---
Chickpea and celery salad
2 cans chickpeas
4 stalks celery, thinly sliced and roughly chopped
2/3 cup chopped red onion
1 cup chopped parsley
---
Greek dressing
½ cup quality olive oil
¼ cup red wine vinegar
2 cloves garlic, minced
1½ teaspoons dried oregano
1 teaspoon Dijon mustard
¾ teaspoon fine-grain sea salt
½ teaspoon freshly ground black pepper
½ teaspoon agave nectar or sugar
Pastasallad med jordnötssmörsdressing – 2 st


Några jordnötter eller solrosfrön
Sallads mix (typ kål, romansallad mm)
Rivna morötter
Andra grönsaker som känns bra.
Kanske några cocktailtomater
150g  spaghetti/pastaDressing
2 matskedar jordnötssmör
2 matskedar soja
2 matskedar honung eller agave
2 matskedar vinäger
ett par nypor riven eller hackad vinäger
en klyfta vitlök, hackad eller pressad
en skvätt vatten
(Rör ihop allt – får gärna vara lite "grynigt")
---
MAKE-AHEAD MASON JAR SALADS FOR THE WEEK + A KILLER CLEAN HONEY MUSTARD DRESSING
For the Honey Mustard Dressing:
¼ cup plain greek yogurt
½ cup yellow mustard
½ cup raw honey
1½ tbsp. freshly squeezed lemon juice
For The Salad:
4 boneless skinless chicken breasts
½ tsp. kosher salt
¼ tsp. ground black pepper
⅛ tsp. garlic powder
1 tbsp. olive oil
1 lb. grape or cherry tomatoes, whole
2 lg. cucumbers, peeled and diced
⅓ cup sliced almonds
1 cup crumbled goat cheese
¾ lb. mixed baby greens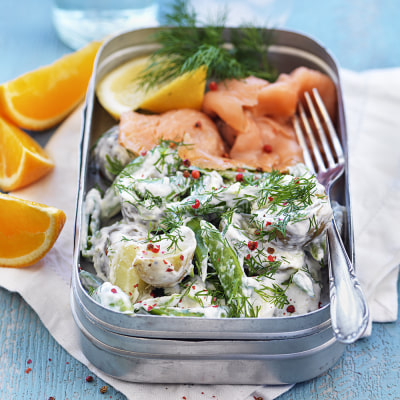 POTATISSALLAD MED LAX
2 portioner
140 g kallrökt lax (eller varmrökt)
0.5 citron till servering
rosépeppar
400 g potatis
50 g sockerärter
1 salladslök
2 dl gräddfil
1 msk majonnäs
3 msk finriven färsk pepparrot
1 dl dill
salt och svartpeppar
————————————————–
– Dela potatisarna om de är stora. Koka i saltat vatten. Strimla sockerärter och salladslök.
– Blanda gräddfil och majonnäs med pepparrot och dill. Vänd ner potatis, sockerärter och salladslök.
– Smaka av med salt och peppar. Smula över rosépeppar och servera med lax och citron.
THAI GREEN SALAD WITH SHRIMP AND SPICY ALMOND DRESSING


Rainbow Salad in a Jar with Avocado Hummus
Wheat Berry and Blistered Tomato Mason Jar Salads with Basil-Almond Pesto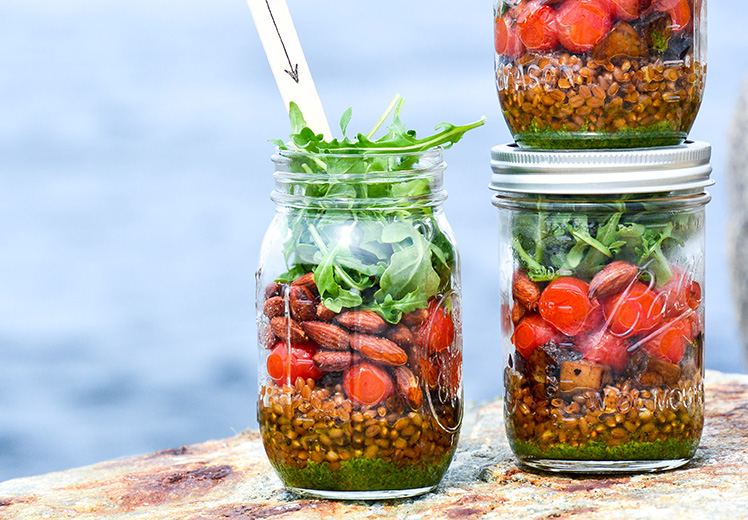 MASON JAR ZUCCHINI NOODLE SALADS
Egg and avocado mixed salad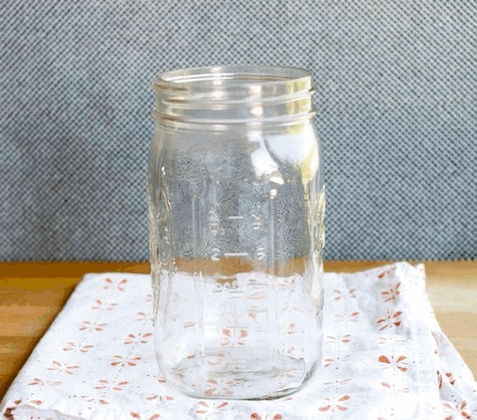 5 veganska sallader

Asian noodle salad jars
Mason Jar Carrot Noodle Salad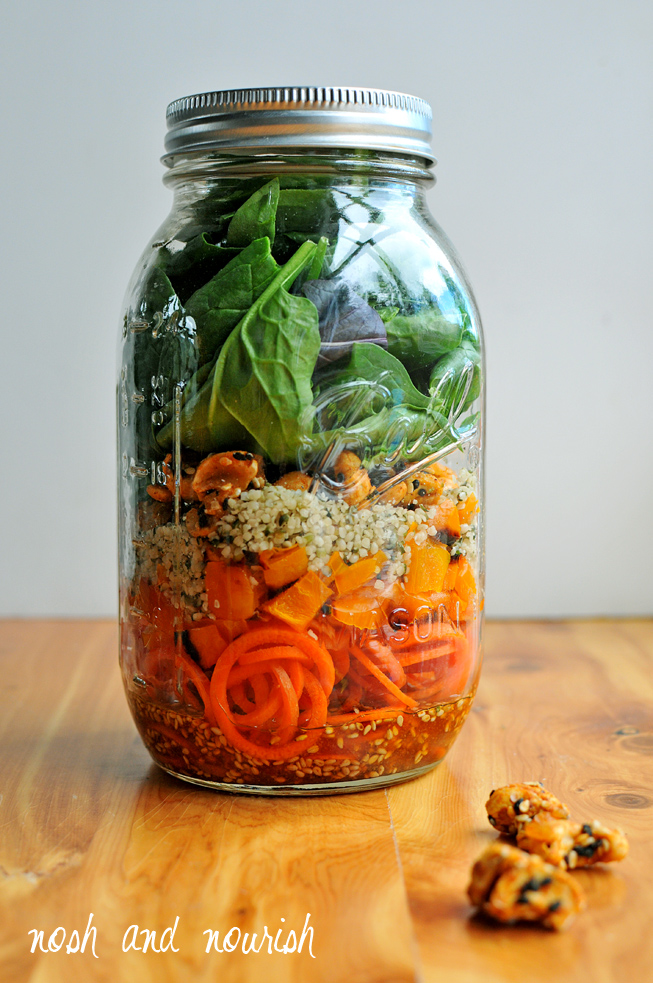 Cobb Salad. Caesar Salad. In a Jar.